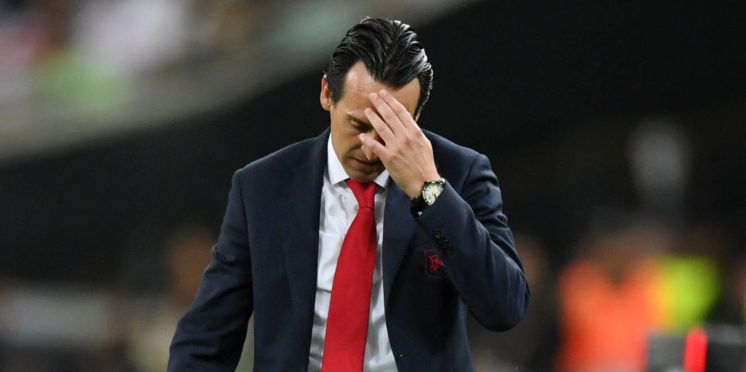 The position Arsenal must look to prioritise this summer
There are many areas that Arsenal will look to improve on during the summer transfer window with a reported £40million transfer budget. It would be difficult to imagine any transfer list that doesn't include a starting centre-back to replace the ageing Laurent Koscielny and under-performing Shkrodan Mustafi.
Equally likely is that the backroom staff will research potential creative midfield prospects, considering the losses of Aaron Ramsey and Jack Wilshere on free transfers over the past 12 months. But there is one position that Arsenal should look to reinvigorate in the coming months that is more crucial than any other: the head coach.
Since joining, Unai Emery has fallen short of his first season expectations of securing Champions League football for the Gunners, in spectacular fashion. This is in spite of the fact he has adopted a position that has been newly refined to focus solely on the team's matchday performances. This is due, in part, to his own preference but also as a result of the power shift that has occurred behind the scenes at Arsenal since the April 2018, when Arsene Wenger announced his departure after a 22-year tenure.
The Frenchman fulfilled a much broader role acting as more of a traditional 'manager', in which he was heavily involved in any and all decisions that would influence the first team including transfers, sponsorships, scouting and contract management. This role saw Wenger often working in direct tandem with former CEO Ivan Gazidis.
Since Gazidis left in late 2018 to take up the role of CEO at AC Milan, Arsenal's primary owner Stan Kroenke oversaw the signing of both Raul Sanellhi as the new Director of Football and Vinai Venkatesham as new Managing Director. Both of which now occupy positions that were created to fill the administrative vacuum left by Gazidis.
This theme of power restructuring also led to Emery's diminished range of responsibility. Although, having a more refined spectrum upon which to focus may be a good thing as performances on the pitch is what ultimately drives every other aspect of the club from merchandise sales to sponsorship deals and overall fan satisfaction. That's exactly what makes the head coach position the most important role in football, and indeed, world sports at large.
The importance the head coach role possesses is magnified by the ephemeral nature of health and ability, leaving the head coach as the one constant factor in a teams success or failure. All athletes will suffer from downturns in form or fitness at some point in their career, just look at the once infallible Lebron James who missed six weeks of the regular season this year as he approaches his 35th birthday. If fatigue or form doesn't hinder a team then unrest will.
Even the most persuasive of teams are not immune to players wanting to pursue other challenges, just take for example Cristiano Ronaldo leaving his beloved Real Madrid to play for Juventus despite winning three consecutive Champions League titles. The kind of mobility that is available to athletes, especially stars, is not conducive to building sporting legacies or dynasties, but the potentially steadfast nature of a capable head coach can be.
Head coaches and the staff that support them should be able to visualise and implement cultures and regimes that span over many generations of players, circumnavigating the inherent problem of their ephemerality. Sports are littered with examples of this; take for instance Greg Popovich who has taken the San Antonio Spurs to six NBA finals and won five over his 23-year tenure.
This record may not seem all that impressive, but when you consider that only eight other teams can boast having won a single championship during this same period, and only the Lakers on the back of the historic Shaq and Kobe connection can equal his record of five titles, the magnitude of this feat becomes that much more apparent. Another prime example is Bill Belichick who has amassed a total of six Lombardi trophies over an 18-year career as the head coach of the New England Patriots, a record only surpassed by the Pittsburgh Steelers and their near 87-year history.
You could make the argument that these are anomalous examples from other sports and such feats can't be replicated in football. Sir Alex Ferguson's record of 20 major titles during his 27-year tenure would beg to differ. It is also arguably to a lesser extent that Arsenal have just exited a dynasty of their own during which Arsene Wenger stayed loyal to a footballing philosophy that kept Arsenal in the Champions League every year, until his last season at the club.
He managed this achievement despite a rotating door of talent that in some seasons saw that word stretched to its very limit. This is a resounding testament to the influence that a head coach can exert over his roster by way of instilling a tangible sporting philosophy and culture.
It is this lack of a current or aspirational philosophy that is most damning of Emery's first season at the helm of Arsenal football club. During his admittedly brief tenure, Emery has categorically failed to communicate to the fans, the media and seemingly the players just what his footballing philosophy looks like.
If Emery possesses a vision for the club going forward, it is turbid, to say the least. It is for this reason that the newly appointed Raul Sanllehi and Vinai Venkatesham must be ruthless in their pursuit of a head coach who can instil a set of philosophies and values that will lead Arsenal to a period of success, spanning multiple generations of talent.
If Arsenal wanted to find a head coach who could act as a beacon of inspiration for players present and future in a time of rife uncertainty, they should strongly consider ousting Emery before he guides them onto the jagged rocks.
---