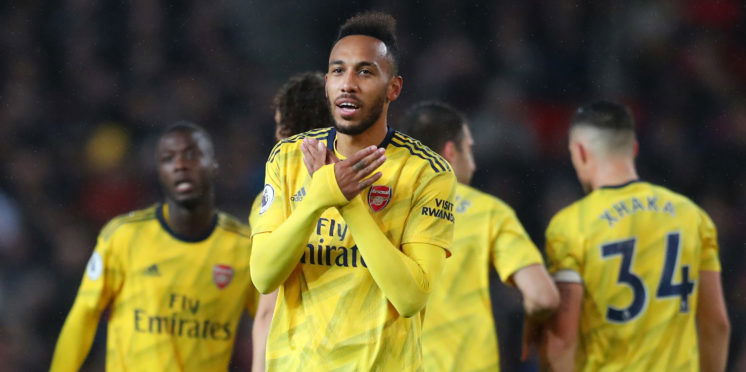 Aubameyang – The best in the world?
Pierre-Emerick Aubameyang has been in such a groove that some Arsenal faithful have dubbed him the best in the world. The 30-year-old Gabon national has come out in his finest-ever form early in the 2019-20 season, and arguably given the Gunners more reason for excitement and optimism than we've seen in several years. And now, though it still feels as if the present campaign has only just gotten started, it seems fair to ask the biggest question we could of an EPL goalscorer: Might Aubameyang change the record books?
As of the time of this writing, the forward has seven goals through eight matches. He was not, generally, included in the very top tier of potential league-leading scorers in the preseason; that was reserved for the likes of Mo Salah and Sergio Aguero, for the most part. However, most of the UK's accessible bookmaking platforms that include odds for individual awards will at this point show Aubameyang neck-and-neck with other league leaders (namely, Aguero and Tammy Abraham, for the moment). In other words, the oddsmakers see him keeping up something close to his current pace.
That pace, for those who would rather not do the math, would put Aubameyang at right around 34 goals by season's end. As a reminder, this would not only best Salah's 32-goal mark (the highest in a 38-match Premier League season), but would also win fact tie the record shared by Andy Cole and Alan Shearer for a 42-match season.
Now, of course a hot start for any goalscorer can cool off. Abraham and Aguero are scoring at a similar pace, and we of course wouldn't assume all three can top Salah's mark. Furthermore, there's always the potential for changes within the club to draw focus away from Aubameyang in pursuit of more well-rounded success. Presumed transfer targets for January include options up and down the field, and, rightfully, the main focus seems to be on shoring up the centre-back position and/or finding a replacement for Mesut Ozil. But as always, there are at least whispers of potentially incoming attacking help – which could help the team but also detract from Aubameyang's personal numbers (though we might suggest the attack should be left alone).
Assuming there's no major shift in the status quo though, this has become a viable story to watch. Arsenal at this point is likely playing for automatic Champions League qualification rather than an EPL title, given Liverpool's blistering start to the season. But a personal record for Aubameyang would be a very fun added bonus on top of what could become a very promising season.
---