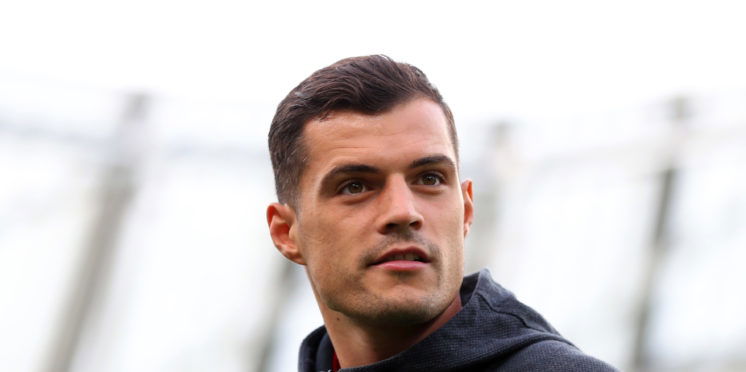 Arsenal fans hit back as Emery defends Xhaka
Arsenal boss Unai Emery has recently jumped to Granit Xhaka's defence after another poor performance.
Xhaka is prone to criticism from many Arsenal fans, who believe the Swiss international is no longer good enough for the Gunners. 
The 26-year-old joined Arsenal in 2016 and has never lived up to expectations but often maintained a regular starting spot in the team.
Speaking to the media about the player, Emery said:
We've been speaking — mistake, recognise that mistake, learn, correct, improve and after repeat with success.

Every player makes mistakes, only some are magnified because the consequence is more.
These Arsenal fans targeted their manager on Twitter, with many insinuating Emery is downplaying the number of mistakes that Xhaka makes.
Twitter: RT @afc_al: @afcstuff Every player do make mistake but they don't keep doing the same mistake again and again. https://t.co/r0JqFrXiHJ (@muhammadaming_)
Twitter: RT @AFCTexas: @afcstuff Except it's not just one mistake. It's many, and the same kind. (@muhammadaming_)
Twitter: RT @dancswithwolves: @afcstuff Yes it's a mistake but it's also due to a lack of ability and intelligence. He will not learn and we'll conc… (@muhammadaming_)
There were even fans calling for both Xhaka's and Emery's head!
Twitter: RT @SultanX8: @afcstuff I can't wait until the end of the season when both of you are gone (@muhammadaming_)
Twitter: @afcstuff Emery's decisions are increasingly baffling. He is on a short wire this season, could be gone by May. (@auric_k)
---
Read Arsenal verdict 
Xhaka is the type of player who will always be scrutinised.
He isn't the type to go and score 15 goals a season from midfield, or even many more than five for that matter.
Xhaka is also a tough tackler, which gets him into trouble from time to time, something that is frustrating for the fans. 
The problem is, Xhaka's level of consistency is poor and he has become something of a scapegoat among supporters. To hear Emery defend him in such a manner will of course anger fans and it's easy to see why.
---