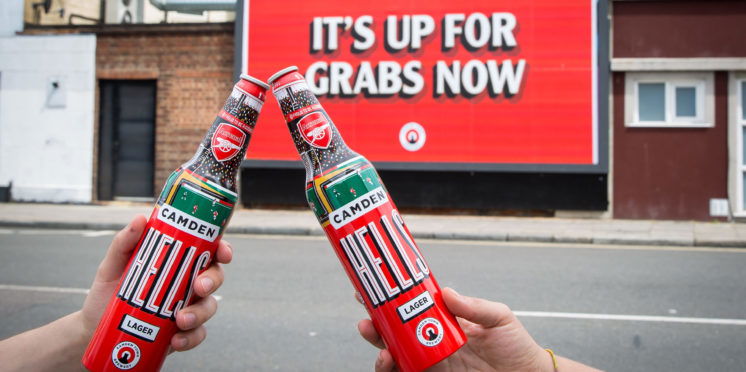 Camden Town Brewery giving away a pair of Arsenal season tickets!
Nothing goes better than beer and football. So, when the chance came along to sign-up with one of the biggest teams in the world (which happens to be our founder's lifelong club) we couldn't wait to kick things off. North London is red, and it's thirsty.
Always looking for new ways to improve the match-day experience, this soon-to-be-legendary partnership is the result of Arsenal's ambition to offer a local, premium beer that fans know and love. Located just 2-miles from the stadium steps, the club's local brewery (us!) was the perfect signing. For our founder, Jasper (a Gooner through and through) the chance to bring his two favourite things together was an open goal not to be missed.
Camden Hells Lager is "Up For Grabs Now", just like Michael Thomas' goal in '89 (if you know, you know.) As the official beer of Arsenal, we're making it possible for fans to have a great beer experience in Emirates Stadium. We'll kick off the season with our three new Camden Town Brewery bars located in the stadium, with lots more to come throughout the year.
To kick off the partnership we're giving one lucky Arsenal fan the chance to win the ultimate beer and football season, with a pair of season tickets, home game beers all year and a party for their mates in the Camden Town Brewery bar up for grabs. To enter simply head to our website today at www.camdentownbrewery.com/arsenal.
Jasper Cuppaidge, Camden Town Brewery founder, said:
If you'd have told me 10 years ago that the beer I was creating in my basement in North London would one day be the beer of Arsenal Football Club – the club I love, I would have thought you were crazy, but I would have loved the idea of it! The partnership with Arsenal marks a huge moment both for me and for the entire team at Camden Town Brewery and we can't wait to share our great beers and a better beer experience with all of the supporters like myself.
Arsenal's Commercial Director, Peter Silverstone, said:
We are always working to improve the matchday experience at Emirates Stadium, so to partner with the local and hugely renowned Camden Town Brewery is very exciting. Camden's enthusiasm is infectious and their desire to support our fans is clear to see through their incredible competition offer to kick-start our partnership. We look forward to working with them on more exciting initiatives to capture the hearts and taste buds of Arsenal fans
Competition T&Cs:
Competition live from 22nd July – 28th July 2019, and winner will be contacted on 28th July 2019
UK, 18+. Enter your name an email in the webform found www.camdentownbrewery.com/arsenal between 22nd and 28th July 2019 to participate in a free prize draw. 1 prize available, consisting of:
Two (2) season tickets (all home Premier League matches, first 7 home cup – FA and European matches)
One (1) Camden pint per person per match at either of the Camden bars located in General Admission areas
A bar tab for up to ten (10) people at the Camden Town Brewery bar (subject to pre-arrangement with the Promoter, up to a value of £300)
One (1) Camden and Arsenal goody bag
No purchase necessary.
Winners to be chosen at random from all entries and contacted by email on 28th July.
Please drink responsibly
---